【2 H with All-you-can-eat!】 10 bags of Buddhist party courses 4000 yen (tax included)
Course details
【2 H with All-you-can-eat!】 10 bags of Buddhist party courses 4000 yen (tax included)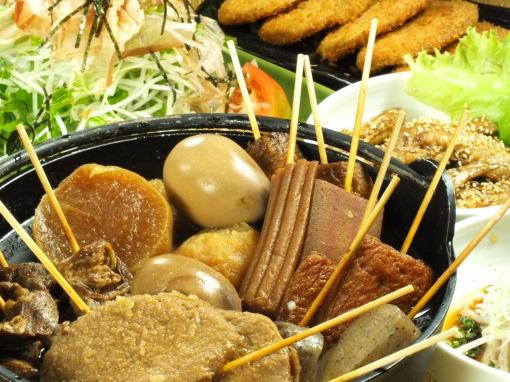 By using a coupon4000 yen
(tax included)
All-you-can-drink available

Banquet course with 2H all-you-can-drink ★ 1500 yen if single item drink
Reservation deadline

Until 23 o'clock the day before the store visit date
Available days for reservation

Monday - Saturday, Sunday and public holidays - Holidays
Speaking of local specialties "Shizuoka Oden"! Prepare an oden hot pot course perfect for hospitality by prefectural people ♪ Shochu and sake are also moving forward!
Course menu
Course example
【Appetizer】
■ Tangled vinegared (domestically owned use)
【salad】
■ Seasonal salad
【Assorted sashimi platter】
Tuna
■ Live
■ Raw cherry blossoms
■ ground fish
【Nood diso】
■ Shizuoka Oden pot
【Fried food】
Kushikatsu
From the paste
■ Black pepper fly
※ All you can drink about 10 kinds of local wine at + 500 yen!
All-you-can-drink menu
·beer
· Draft beer (Kirin's best squeeze)
·Sake
· Japanese sake (cold · hot spring)
· Shochu
· Shochu Bidan
· Sour variety
· Sour variety
·Plum wine
·Plum wine
·whiskey
·whiskey
·Soft drink
· Various soft drinks
· All you can drink Shizuoka sake at ※ + 500 yen!
· Takasago / Snowy Mountain / Feng Chi / Tianhui / Initial Tortoise / Ichigo / Kikuzaki / Suginoshi / Shita Izumi / Onigoro / Kunaka
2018/10/29 update